I've had an interesting September being a keynote speaker, as well as having the opportunity to listen to other keynote speakers.
Good Luck or Bad Luck
Prior to my speech at the Singapore Management Festival for Singapore Institute of Management, Idris Jalal, former CEO of Malaysia Airlines gave an excellent speech.
He challenged us to think about the ten most important events in our lives, and then consider how many of them were due to our own efforts, and how many were due to things outside our control. He estimated 60% are outside our control. I think that's about right. 
It's the same on expeditions – good luck or bad luck can make all the difference between success or failure (accidents, illness, weather, meeting the wrong people along the way, c.f. no accidents, no illness, good weather, meeting the right people).
Recognising the role of luck/things outside our control keeps us humble when we do succeed, and helps us keep perspective when we fail. 
It is also vital we are continually improving our abilities, attitudes and mindset, because then when we have tough times (bad luck) we are better able to get through them, and when we have great opportunities (good luck) we are better able to make the most of them.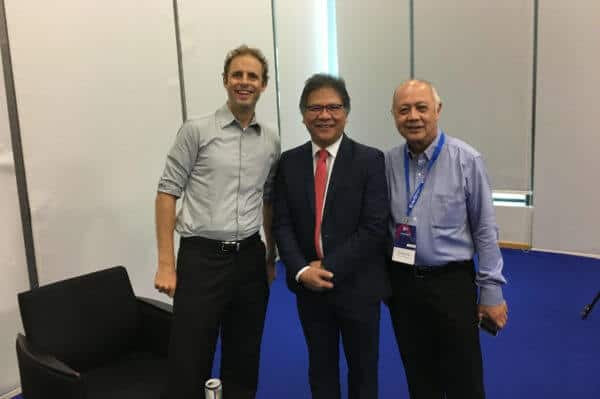 ---
Thought for the Day
There is a lot of uncertainty about the future right now. 
Uncertainty makes us afraid.
Over the summer I had lunch with the inspiring NiQ Lai, co-owner of HKBN (one of my favourite clients in Hong Kong 😉 )
I asked NiQ what he thought the future held. I really liked his answer. He said:
"I don't know what the next ten years hold, but what I do know is that in ten years time we all will look back on today and say: 'wow, there was so much opportunity back in 2018'!"
Wise words, thanks NiQ.
---
Keynote Speeches in Asia
This month I have given speeches for Ferrero in China, Sunlife in Macau, an education conference in China, AIA in Hong Kong, and two speeches in Singapore for Singapore Institute of Management and Bank of Singapore. A fun start to the busy autumn speaking season.  
It was great to see Red Hong Yi give a speech at the Sun Life Financial MDRT event in Macau last week, where I was also speaking.
Red is an artist – who makes extraordinary works of art out of things like fruit, tea-leaves and chopsticks! Her clients include the likes of Google, Facebook and Jackie Chan (by whom she was commissioned to create a portrait of him out of partially burnt chopsticks!).
In her speech, Red gave some very helpful reflections about creativity and the artistic endeavour:
Creativity is like a muscle, the more we use it, the more we can grow it

Consistency gradually produces results, be patient and keep going

Done is better than perfect. If you wait until you think you can make it perfect, you might never get started.
Thank you, Red for an excellent speech.  
Also on stage was Jason Black. Jason has a remarkable story which involved being a very successful young opera singer who then almost died in a terrible car crash. He survived this, got married, but then almost died in a crazy accident involving a glass table which severed his throat. And yet he bounced back from this too and now has an infectious enthusiasm for life.
He talked about the importance of WHY in our lives, breaking each letter down like this:
W – Who do you want to be, who are you doing what you do for, who is going to be your mentor?
H – How are you going to achieve what you want to achieve?
Y – Yes and No. This is about prioritisation. When we know our "why" we will be clearer on what to prioritise, and say yes or no to. 
Thank you Jason for an excellent talk, it was a privilege to speak on the same stage as you. 
It was also great fun to give a talk to Ferrero in Suzhou, China. A very fun and engaged audience. Lots of good questions at the end, such as:
"Do you consider nothing is impossible for you now?"
My answer:
Well, no, of course I still think many things are impossible.
Or unwise.
And I still have a lot of self-doubt. 
But now, when I see a very difficult challenge which at first seems impossible (whether an expedition challenge, or a general work challenge), I have learned to take a step back and ask: 
"Are there any ways this might be possible?" 
"Who can I ask for advice about this?" 
"What skills would I need to learn to do that?"
And often turns out that the seemingly impossible goals/challenges are much more possible than we realise – especially if we have the right attitudes, a Growth Mindset, and get advice and help from the right people.