October was full of travel – planes, bullet trains, and automobiles!
Bullet Training in China
Have you considered catching the bullet train instead a plane for business trips to China? Last week, to get to a conference I was speaking at in the middle of China, instead of a complicated multi-flight route, I caught the bullet!
I really recommend it, but a few cautions:
It took 8 hours to go 2,500km (when I walked across China that distance took me 3 months!)

It was much cheaper than a flight (about 1300RMB/200 USD). I took the 1st class there, and 2nd class back. 1st class costs only 30% more, but sells out

It was beautiful (see video) and zipping past/through mountains and across valleys where farmers are still using simple ploughs felt like science fiction

Data roaming on my phone was cheap, so I was also able to get plenty of work done online and offline
Cautions:
On a short trip, I would recommend the train one way, and flight back. Spending 8 hours on a train is one thing, spending another 8 hours on a train 2 days later is another!

2nd class is fine for a short journey, but for 8 hours when you want to do some work, it was cramped (2nd class is like economy on a plane, 1st class is like the premium economy)

Kowloon West in HK tips: it took 30 minutes to get through passport control, etc, first thing in the morning, though I'd recommend an hour to be safe

 
---
Speeches and Masterclasses
In October I gave speeches in Hong Kong, China, London, Luxembourg, and Taiwan. It was fun that it was my first visit to Luxembourg (which became the 20th country I have spoken in), and my first visit to Taiwan (which became the 21st country for speaking!). 
In Luxembourg, in addition to a larger keynote to all the people managers at RBC, I ran two longer masterclass sessions for groups of 25 people, on the important topic of resilience.  Using stories from my two longest walking expeditions as points of reflection, we considered resilience as both the ability to persevere amid ongoing high-pressure, and the ability to bounce back from setbacks. 
We reflected together on pre-traumatic growth and post-traumatic growth, and discussed the roles of focus, not having too many goals, knowing the "why" of our goals, self-care, problem solving, and dealing with the psychological impact of devastating setbacks. 
All the groups I worked with at RBC were extremely engaged, interesting and intelligent to work with.
I also ran as an ambassador in RBC's brilliant Race for the Kids 10k charity event – in the process somehow ended up on Luxembourg primetime TV news alongside my global speaking friend Cyriel Kortleven.
—-
I was really happy to give a keynote speech forCitywire. When I asked the audience to brainstorm how to survive cycling through a Russian winter, one audience member had an intriguing answer I had never heard before: "Take Donald Trump with you!"
Now that would make for an interesting expedition!
I am pleased that the gentleman leaning over in the photo below was not checking his phone, but rather was busy taking notes!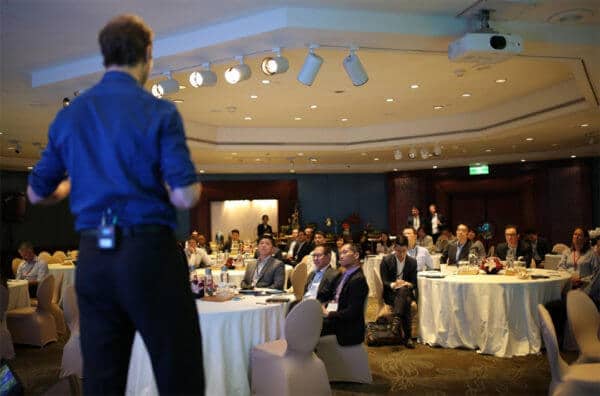 ---
Testimonials Received
Over the past couple of weeks I've received a number of testimonials on Linkedin from speeches given – one most recently, the Mercer HR conference in Hong Kong. Prior to that, from the Singapore Institute of Management – Management Festival.  
Many thanks to Godelieve van Dooren and Jeff Tan for kindly writing these on my profile. 
Great fun to do the opening keynote for at the Mercer HR conference in Hong Kong. Below is my final slide – I have modified an overused quote into something that I feel is more true and important and that I quite like!