It has been an interesting Summer so far and here is a summary of what has been going on for July.
Book Overview: Expert Secrets
This month in my speakers mastermind group with Akash Karia and Ashley Galina Dudarenok, we read "Expert Secrets: The Underground Playbook for Creating a Mass Movement" by Russell Brunson.
Quick summary:
Brunson is a very confident, go-get-em-tiger kind of entrepreneur, and his passion to turn ideas that interest him into extremely profitable companies explodes off the page
His sales technique involves using powerful story-telling to create behaviour change.
The key for the speaker/salesperson, he says, is not to "teach" the audience what we need to do, but rather to dismantle and change our false beliefs, because once our beliefs have been changed, then our behaviour will follow. Great insight.
On the other side of this coin, my concern was that his sales method is prone to saying whatever it takes to make the sale – which in turns exposes him to the  danger of over-promising and under-delivering (something I get very fed up by when I am burnt by it… and I really try to avoid. Much better to over-deliver, as this both makes me feel better about my work and leads to far more referrals).
---
Staying Safe and Reducing Risks Keynote
In corporate speeches I'm often asked to motivate the audience with a more courageous attitude towards work.  But this week in a speech at CLP's Safety Forum in Hong Kong, the brief was different:
CLP are deeply committed to safety so asked me to reflect on how I stay safe and reduce risks on expeditions.
I reflected on the following 4 principles – all key for keeping me alive:
Principle 1
The most dramatic dangers are not necessarily the most high risk ones. (E.g. On a big bicycle expedition, it is easy to imagine robbers, animals and  weather are the great dangers. However, much riskier statistically is simply the traffic)
Principle 2
We need to practice self-care & have quality focused time in order to make good decisions about keeping safe. (E.g. When sleep deprived or distracted, our decision-making abilities are compromised – on an expedition and at work)
Principle 3
Just because we survived last time, this does not make us any more likely to survive next time. (E.g. Surviving Siberia in winter, did not make me bullet proof when I went to Afghanistan)
Principle 4
We need courage to stand up for safety. (True courage means saying "no" because the risks are too great – this takes more courage than saying "yes" to the risk)
---
Do you have fun when you speak in public?
A few months ago at an event in India, I asked Dr. Marshall Goldsmith what he did when he was giving a speech to an audience who clearly did not want to be there… he said:
"I just get up there and have some fun"!
Great advice – when you have fun on stage, the audience do too!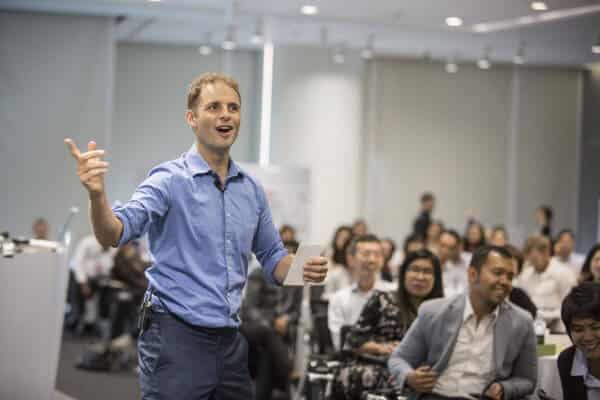 ---
Another Perspective on Time Management
I really recommend watching this TEDx talk, How To Multiply Your Time by Rory Vaden, MBA and taking his advice.
Essentially, Rory summarises that we should look at all our tasks, and ask:
What can I delegate?
What can I automate?
What can I eliminate?
I first watched this a couple of years ago, but it is only recently I have been seriously applying it – especially the automation part.  Automating my task lists has required some hard work with finding and setting up the right automation apps, but WOW, I feel so good now!
What apps do you find really save you time at work?
I've found these particularly good for automating/speeding up regular tasks:
Recording business expenses – Expensify App

Setting up meetings – Calendly App

Blocking my internet when I need to focus – Freedom App

Improving and remembering my passwords – 1Password App