Zoom, Teams, or WebEx? As a virtual motivational speaker, I find Zoom is my favourite platform, but about a third of my clients prefer Teams or Webex.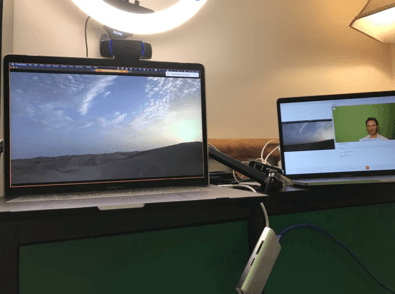 Here are 3 tips I find help me with the extra challenges of presenting via Teams and WebEx:
1. When you share slides, neither WebEx nor Teams show you what the participants see. This can be disorienting as a speaker, as you're not sure what they are seeing, for example, if your screen share is working okay. The simple solution is to have a second laptop, logged into the event as a participant, next to your primary laptop. Then you can see out of the corner of your eye what the participant sees. I find this really helps me relax as I speak!
2. Rehearse on WebEx / Teams. This is very obvious, but easy to neglect. While you rehearse, as with point 1, have another laptop logged in as a participant, so can see how you look as you rehearse.
3. At the start of the event, have a minute of housekeeping – instructing participants how you'd like them to organise their screens (split-screen, gallery, etc). Rehearse the housekeeping message beforehand – again it will help you relax that everyone is seeing the right thing as you speak!
The good news is both Teams and WebEx are also steadily improving.
Please feel free to share your own tips!
For more of my tips for presenting virtually, read my other blog article.
#virtualspeaking #motivationalspeaker #zoomtips #msteams #webex